Happy Friday everyone! Well, my husband went back to work this week from his ACL surgery. It seems like when he's home, I can't get anything done, lol. Anyways, h
ere are this week's Q&A's!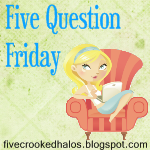 1. 

Do you prefer to drive to your vacation spot or fly?
YWM: I prefer to drive. We're roadtrippers. On our last move from GA to TX we drove 13 hours each way to scout our new home, even though my husband's company would have reimbursed us for plane tickets. We drove 8 hours to Miami from Atlanta for our cruise to the Bahamas. Sometimes we will just hop in the car and drive a few hours and explore a new area.